GWA crews restore operations at 2 more wells
Two more water wells are back online, bringing the total number of operational wells to 88, as of 8 p.m. June 9.
Miguel Bordallo, Guam Waterworks Authority general manager, said there are 46 wells on island power and 42 on generations.
There are some power fluctuation issues at GWA facilities, which Bordallo said "is to be expected during recovery operations."
"What this means is that although we have restored service to 71% of our customers so far, events like these may result in temporary outages until they can be resolved, and we ask for your continued patience while we work to bring our systems to prestorm conditions," Bordallo said.
Also, Bordallo reported that GWA's latest sampling and analysis of the distribution system on June 9 returned "clear of any contaminants."
"However, our precautionary boil water notice remains in place, out of an abundance of caution, until we achieve normal pressurization in all parts of our distribution system," Bordallo said.
He said the total water production is estimated at about 31.5 million gallons a day into the northern and central systems. While GWA pump and motor replacement teams were able to bring additional wells online, they continue to work to keep existing online wells in operation to increase reservoir levels in Yigo, Dededo, Barrigada, Mangilao and Chaot.
"We also made progress in the Santa Ana area, restoring water service to all of Agat. Our southern water system continues to operate to meet customer demand, however, our Pressure Line Unit battled to repair two main line breaks today in Merizo and Santa Rita," Bordallo said.
For additional information, visit guamwaterworks.org/mawarupdates.
Weekend hours at Port to expedite flow of commodities
The Port Authority of Guam will be open this weekend to help expedite the flow of commodities into the community.
As of June 9, there were 555 full containers in the yard that were to be released, according to a press release. Port General Manager Rory Respicio authorized "normal gate house operations" of 8 a.m. to 5 p.m. on June 10 and 11.
The Port is the primary entry point for all goods imported into Guam.
"Our Port Strong team worked tirelessly to reopen the Port three days after the passage of Typhoon Mawar, and our work continues in order to overcome all the challenges pre and post-Typhoon Mawar," Respicio said, crediting support from the administration, the Port board and local and federal partners.
He noted the port has been working on a "24-hour cycle over the past 13 days, working through all the challenges, so that the Port can remain 100% operational."
Port officials also announced that a function load test on Gantry 4, by ABB engineer Myu Tun along with the Port team, was successful. That allowed Gantry 4 to be turned over to Operations.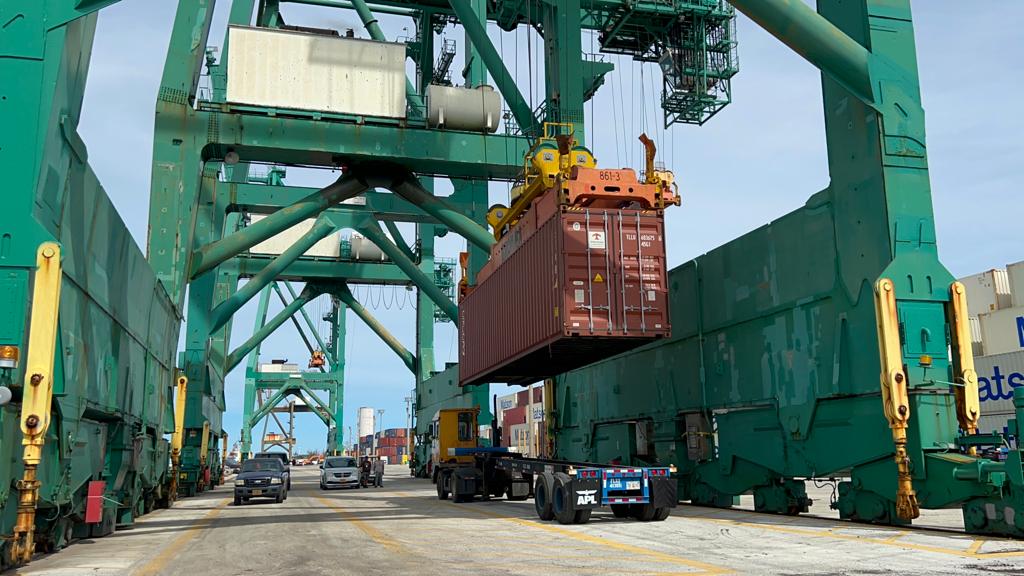 Gantry 4 is the last of the three gantry cranes to be placed in service after each sustained damage from Typhoon Mawar, according to a press release. The Port's Equipment and Maintenance Division conducted extensive troubleshooting and repairs to bring Gantry cranes 5 and 6 online. Gantry 5 was placed in service on May 28 and Gantry 6 was placed in service on May 31.
As part of the Port's Performance Management Contract with Matson, ABB engineer Myu Tun was flown in to troubleshoot Gantry 4 and provide maintenance support for all the cranes. Tun also made a thorough assessment to Gantry cranes 5 and 6, which identified additional parts needing to be procured and repaired in the next few days.
Cabras Marine's Polaris tugboat
Cabras Marine continues to work on lifting and draining their tugboat Polaris. This vessel is owned and operated by Cabras Marine Corporation.
The Department of Public Health and Social Services, Division of Senior
Citizens, in partnership with the Mayors' Council of Guam announces the resumption of services at the following Senior Citizens and Adult Day Care Centers beginning Monday, June 12, at Agana Heights, Dededo Senior Citizens Center (Astumbo Senior Citizens Center participants will join Dededo participants), Hagat (Santa Rita Senior Citizens Center participants will join Hagat participants). There will be transportation to open centers.
The following centers remain closed: Astumbo, Inalahan, Malesso', Santa Rita (these participants will go to Hagat), Sinajana, Tamuning, Yona/Talo'fo'fo, Yigo, Adult Day Care-North, Adult Day Care-South.
Grab-N-Go meals, senior citizens and adult day care center participants can go to alternate sites.
Adult Day Care-North – Adult Day Care Center – Central

Inalahan Adult-Day Care-South – Inalahan Senior Citizens Center

Malesso' – Malesso' Senior Citizens Center

Sinajana – Sinajana Outdoor Gymnasium

Tamuning – Tamuning Senior Citizens Center

Yigo – Yigo Mayor's Office

Yona/Talo'fo'fo – Yona Mayor's Office
DPHSS officials also announced that current Supplemental Nutrition Assistance Program (SNAP) participants will receive an "Automated Mass Replacement" of their May 2023 benefit. SNAP participants will receive 50% of their May benefit placed directly in their account after 7 pm on Monday, June 12. This program will assist in Guam's recovery after the effects of Typhoon Mawar.  
SNAP participants who already submitted an affidavit for the "Food Loss Program" and requested an amount less than 50% of their May benefit will automatically have the difference between their award and the 50% provided to them in their account as well. If the SNAP participant requested more than 50% through the "Food Loss Program," and were awarded that amount, those participants will not receive additional benefits.  
For residents who are not SNAP participants, DPHSS is working with the Food and Nutrition Services (FNS) under the United States Department of Agriculture (USDA) on a Disaster SNAP (D-SNAP) program. The D-SNAP program is meant to provide aid to residents who are not regular SNAP participants. DPHSS will provide more details on D-SNAP soon. 
For more information, call (671) 300-8873.