Guam to get defense funding for missiles and more      
The U.S. Department of Defense
released its fiscal 2024 budget on March 13 – a

request of $842 billion for the Department of Defense, which is an increase of $26 billion from fiscal 2023 and $100 billion more than fiscal 2022, the department said.
"This budget includes the largest ever request for the Pacific Deterrence Initiative, which we are using to invest in advanced capabilities, new operational concepts, and more resilient force posture in the Indo-Pacific region. It also enables groundbreaking posture initiatives in Guam, [the Northern] Mariana Islands, the Philippines, Japan, and Australia," Secretary of Defense Lloyd J. Austin III, said.
That request is for $9.1 billion, with a projection through fiscal 2027.
The submission for the PDI includes more than 30 line items within existing defense appropriations accounts, organized into DOD-defined activity categories, such as Guam missile defense infrastructure development of $1.5 billion, and new infrastructure and improved facilities in the Mariana Islands and partner countries, according to the Congressional Research Service.
Austin also referred to "

the growing multi-domain threat posed by the People's Republic of China" and said "the PRC challenge in the Indo-Pacific region" would take priority over the challenge of Russia in Europe. 
Yum – a big MAC for seven companies
Black Construction–Tutor Perini JV; Core Tech-HDCC-Kajima LLC;  Gilbane Federal JV; Granite-Obayashi 2 JV; Hensel Phelps Construction Co.; Nan Inc.; and RQ Construction LLC, Carlsbad, California, were awarded a combined $2.5 billion firm-fixed price, indefinite-delivery/indefinite-quantity contract for design-build and design-bid-build construction projects primarily located in Guam and other areas," according to a March 14 release from the U.S. Department of Defense.
RQ Construction is headquartered in California but has other offices in the U.S. mainland. It has secured MAC contracts and Multiple Award Task order contracts – or MATOC contracts at various military installations, to include those in Puerto Rico and Cuba. 
Granite-Obayashi 2 JV is being awarded a task order at the same time under the multiple award construction contract in the amount of $126.13 million for the construction of facilities for the Ground Combat Element Infantry Battalions 1 and 2, which includes an auto shop, an electrical/communications building, a vehicle wash facility, vehicle laydown areas, roadway construction, ancillary mechanical enclosures and incidental work at Naval Support Activity Guam in Finegayan, according to the release. The task order includes an option, exercised at the time of award, and included in the $126.13 million. That work is due to be completed by December 2025. Other contractors are guaranteed task orders of $25,000 "at time of award," according to the release, and as a minimum guarantee under the contract.
Work on the total contract will be performed primarily in Guam, 80%; the Northern Mariana Islands, 10%; Hawaii, 5%; and "other areas in the Pacific and Indian Oceans, 5%," and is expected to be completed by March 2028. Nine proposals were received for the contract, with seven contractors selected. Naval Facilities Engineering and Systems Command Pacific made the award.
Naval Facility Diego Garcia is a British Ministry of Defence facility leased to the U.S. Navy, located on the Diego Garcia Atoll in the Indian Ocean.
Rear Adm. Benjamin R. Nicholson
is being assigned as commander, Expeditionary Strike Group Two, Norfolk, Va., according to the U.S. Department of Defense.  Nicholson is currently the U.S. Indo-Pacific Command Representative for Guam, the Northern Mariana Islands, the Federated States of Micronesia and Palau. He is also commander, U.S. Naval Forces, Marianas and commander, Joint Region Marianas. Nicholson was assigned to Guam in 2021.
Rear Adm. John V. Menoni
is being assigned as director, Programming Division, Office of the Chief of Naval Operations, Washington, D.C., according to the U.S. Department of Defense. Menoni is serving as assistant deputy chief of naval operations for Operations, Plans and Strategy in D.C. Menoni served in Guam as commander of Joint Region Marianas from 2019 until 2021.
Governor talks BPT in State of the Island
Gov. Lourdes A. Leon Guerrero maintained her bullish attitude about Guam's economy during her state of the island address, given on March 15, Wednesday.
But also noted that rolling back the Business Privilege Tax from the current 5%, which the local business community and several lawmakers have called for over the years, could prove detrimental to schools and efforts to combat illegal drugs.
"I understand that some members of this body have introduced measures to cut the Business Privilege Tax from 5% to 4%, some to help small businesses and others to increase healthcare for working people," she said. "Both of these goals are worthy of praise. But, historically, about 85% of all Guam businesses pay a BPT of less than 5%."
She added that "lowering the BPT for the top 15% of business earners would mean removing more than $65 million in General Fund revenues annually." She said these revenues are paid by federal contractors and others benefitting from the military buildup, "which are among the wealthiest entities licensed to do business in Guam."
"What makes Guam a better place to live and do business? Safer schools and safer streets, or yet another tax cut for some of the nation's largest defense contractors?" she asked. "Senators, if you expect better schools and facilities, do not roll back BPT. If you expect a decrease in crime and less drugs on our streets, do not roll back BPT."
The governor touted more jobs and more training for Guamanians seeking jobs or to change the trajectories of their careers.
"From Guam Community College to the Department of Labor, we are aggressively deploying the tools to train those willing to work for a better life," she said. "Yet, tourism has always been the bedrock of our economy."
She said visitor arrival numbers are above expectations and higher numbers are expected "this summer with the return of visitors from Japan."
While the island awaits tourism numbers to return to COVID-19 numbers, she said another round of Local Employer Assistance Program (LEAP) with $20 million of local and federal funds to help "vulnerable businesses protect jobs, stay open, and be ready." She said the Guam Unique Merchandise & Art is helping to create a community of entrepreneurs.
"Last year alone, we licensed 90 home-based businesses. And we awarded hundreds of thousands of dollars in grants and micro-credits.
As the U.S. Department of Defense continues to build forces and capabilities on top of relocating thousands of Marines from Okinawa to Guam. That's a nearly $11 billion investment that the governor said is important for Guam to be prepared for.
Guam's unemployment rate falls to 4% 
Guam's unemployment rate for December 2022 is 4%. That's a .4 percentage point reduction from September 2022, according to a press release from the governor's office.
It's an approximate 2 percentage point decrease from pre-COVID-19 numbers of 6.1% in December 2019.
The total number of persons unemployed in December 2019 was 4,670.
By comparison, the total number of persons unemployed in December 2022 was 2,900, according to the December 2022 Unemployment Situation Report.
Unemployed persons are those who did not work during the survey week who made specific efforts to find a job within the past four weeks, and who were available for work, according the Guam Department of Labor, Bureau of Labor Statistics.
Gov. Lou A. Leon Guerrero, who has expressed a bullish attitude for Guam's economy this year, said the unemployment numbers illustrate "a transition to steady and stable growth."
In the press release from her office, she does acknowledge the steady increase of prices impacting Guamanians. "We still have work to do to bring down inflation and help the families most impacted by the cost of living, but we are moving in the right direction," she said.
The Current Employment Report also shows that in December 2022 the total number of jobs increased by 3,190 year-over-year, and 840 in the last quarter. Additionally, private sector employees are earning more now than they were at pre-pandemic levels, at an average of $627.06 a week compared to $534.36 in December 2019.
"These historic jobs and unemployment gains are giving workers more power and families more breathing room," said Lt. Gov. Joshua F. Tenorio. "It's a good time to be a worker in Guam."
Gary Hiles, Guam Department of Labor chief economist, said in addition to the increase in employed persons, many of those with jobs are "

working longer hours as more normal work schedules resume to support higher levels of business activity."
Hiles added that as of Jan. 31, according to Guam Visitors Bureau arrival counts. Korean tourist arrivals have recovered to over 57% of the January pre-pandemic levels. He also noted that Japan tourist arrivals have also increased over the year, although at a slower pace.
GVB board postpones electing new officers to next meeting
The board of directors of the Guam Visitors Bureau postponed voting to elect new officers at the March 8 meeting. The board met for the first time at an in-person and virtual meeting, after meetings were indefinitely suspended in May 2022.
Milton K. Morinaga, chairman, explained why the election was not going to happen. "On Feb. 27, I wrote to management to call [March 8's] meeting to complete two items, to elect our officers and elect our 12th member to our board," he said. "Without discussing with me, the management changed the wording of my agenda from motion to elect directors and 12th director to discussion on election of corporate officer and discussion of selection of the 12th director. With this change in wording, we will not be able to act on my request."
GVB management changed the wording due to the need to have a discussion prior to electing officers, the agency's legal counsel advised.

The notice published showed the changed special meeting's agenda, which was to welcome and acknowledge the board member appointed by the 37th Guam Legislature, discuss the election of officers, and the selection of the 12th director.
Because the published agenda did not include voting for new officers, "They have to stick to what is on the agenda, so if they vote, it wouldn't count," Josh Tyquiengco, public information officer of GVB told the Journal. Now, a March 23 board meeting will include the election of board chairman, vice chairman, and treasurer.
Other board members in attendance on March 8 were Jeffrey B. Jones, president and chief operating officer, Triple J Enterprises Inc.; Ho S. Eun, owner, Core Tech International; P. Sonny Ada, president, Ada's Trust and Investment Inc.; Mary P. Rhodes, president, Guam Hotel & Restaurant Association; George Chiu, executive vice president, Tan Holdings Corp.; Joaquin P.L.G. Cook, president and CEO of Bank of Guam; Paula LG Monk, senior sales manager for Guam and Micronesia, United Airlines Inc.; and Mongmong-Toto-Maite Mayor Rudy A. Paco. 
Senators Amanda Shelton of the 37th Guam Legislature, the chair of the legislative committee on tourism; and Telo T. Taitague of the 37th Guam Legislature, member of the legislative committee on tourism; were also in attendance. 
An orientation was set for March 15, after Rhodes requested for GVB management to conduct such training for new board members.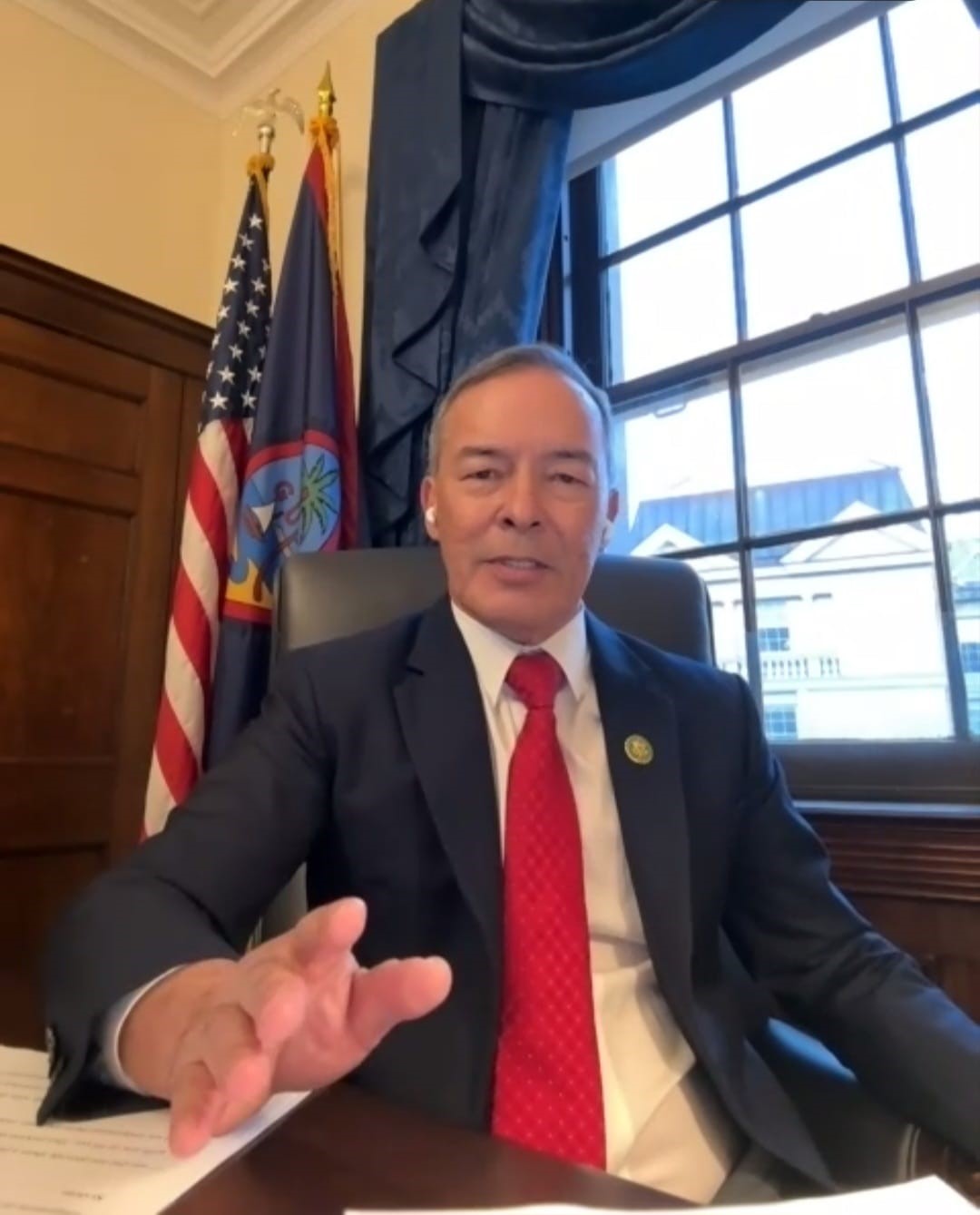 Moylan pushes discussion to integrate GDOE, DoDEA
James C. Moylan, Guam's delegate to Congress, wrote on Feb. 27 to U.S. Secretary of Defense Lloyd J. Austin III; suggesting integrating students from Department of Defense Education Activity and Guam Department of Education. 
"I would like for the consideration of the Department of Defense to establish a five-year plan which would eventually integrate military children back into the Guam Public School System (now known as Guam Department of Education," he wrote. Moylan, who hosted a press conference from Washington, D.C. for Guam media on Mar. 8 via Zoom, said, "This letter was just to open discussion." 
For the last 26 years, children of military personnel have attended Andersen Elementary School, Andersen Middle School, and Guam High School, after the Department of Defense decided in 1997 to build separate schools for them due to extensive issues in the island's public school system like overpopulated campuses and shortage of funds to maintain facilities. 
Instead of constructing new DoDEA schools, in Moylan's letter, he proposed using the funds to repair and renovate the already built 41 public school campuses GDOE operates, rather than have DoD build schools due to the influx of military personnel coming to Guam.  "Instead of the DoD authorizing what could be nearly a billion dollars to construct new DODEA schools on Guam, it would be more cost-effective for DoD to allocate a percentage of funds to GDOE to improve facilities," he said. 
He proposed phased re-integration during five years.  "It would be a win for all stakeholders," Moylan said. DoD and GDOE officials have not yet responded. Moylan said he did not communicate with those counterparts prior to sending the letter to the Secretary of Defense. 
And also:
Bank of Guam
announced March 8 the addition of a third automatic teller machine in Palau. The additional ATM is stationed at the Ngchesar Shimizu Station and "will be serving the Babeldaob region," according to the bank.
The ATM is a lobby cash dispenser, accessible 24/7, with enhanced features and functions  such as enhanced anti-skimming security to protects against fraud attacks, an interactive display using a combination of a touchscreen and physical function keys, and a refreshed look and feel.
 Bank of Guam's other ATMs are at its Koror Branch and the Airai KB Shell gas station. mbj