BY KYHOMARA SANTANA
Journal Staff
Hills of mattresses, vegetation, wood, appliances and other typhoon debris can be seen at Tiyan, one of three disaster debris transitional sites around the island set aside following Typhoon Mawar.
According to Nicholas Rupley, Guam Environmental Protection Agency spokesman, island residents disposed of hundreds of thousands of cubic yards of disaster debris consisting of "household garbage, white goods, bulky waste, metallic waste, construction debris, vegetative waste, electronic waste and household hazardous waste."
In addition, the Guam Solid Waste Authority collected 2,724 tons of trash in the two weeks following Typhoon Mawar. That's about twice the average household waste it used to collect before.
General Manager Irvin L. Slike said they also collected 8,138 tons of waste at one of their transfer stations, which is 1.5 times the normal average. He said their plan post-typhoon was to "remove as much putrescible waste as quickly as possible."
Not all that waste will stay in Guam. According to Slike, all the household waste along with white goods and scrap metal will be shipped off island. Household waste and goods will be buried at Layon landfill in Inarajan and the majority of green waste will be either burned or composted to reduce its volume.
Officials said tropical typhoons pose a threat to the environment and the ecosystem and Typhoon Mawar was not the exception. Besides the extensive damages suffered by homes, businesses and its effects on water and power services, there's the impact on the wastewater system and trash is washed into the oceans.
Mawar hit with sustained winds of 140 mph, which is an already very significant typhoon, as those wind speeds can easily push cars, pull at non-concrete roofs, bust in doors and windows and more. But it wasn't just the speed of the winds that caused widespread destruction. The storm hung over Guam, slowing its forward direction speed to as slow as 3 mph at one point, which is why it took more than 10 hours – depending on where you live – for the stormy winds to die down.
According to Rupley, the storm's "windspeed, rain and storm surges impacted our island's vegetation, beaches and infrastructure with cascading effects on human and environmental health."
During the Typhoon, significant amounts of storm water made their way into Guam's marine environment which increased the concentration of enterococcus bacteria, an indicator of fecal matter in water, and therefore polluted reserves beyond acceptable Guam Water Quality Standards.
Because of this, using water directly "out of the faucet" was not safe, and the Guam Waterworks Authority issued a precautionary boil water notice to the whole island, which also affected water production and distribution.
Guam EPA also conducted shoreline assessments and found visible evidence of seafloor scouring and damage to coral heads in some parts of the island's marine environment.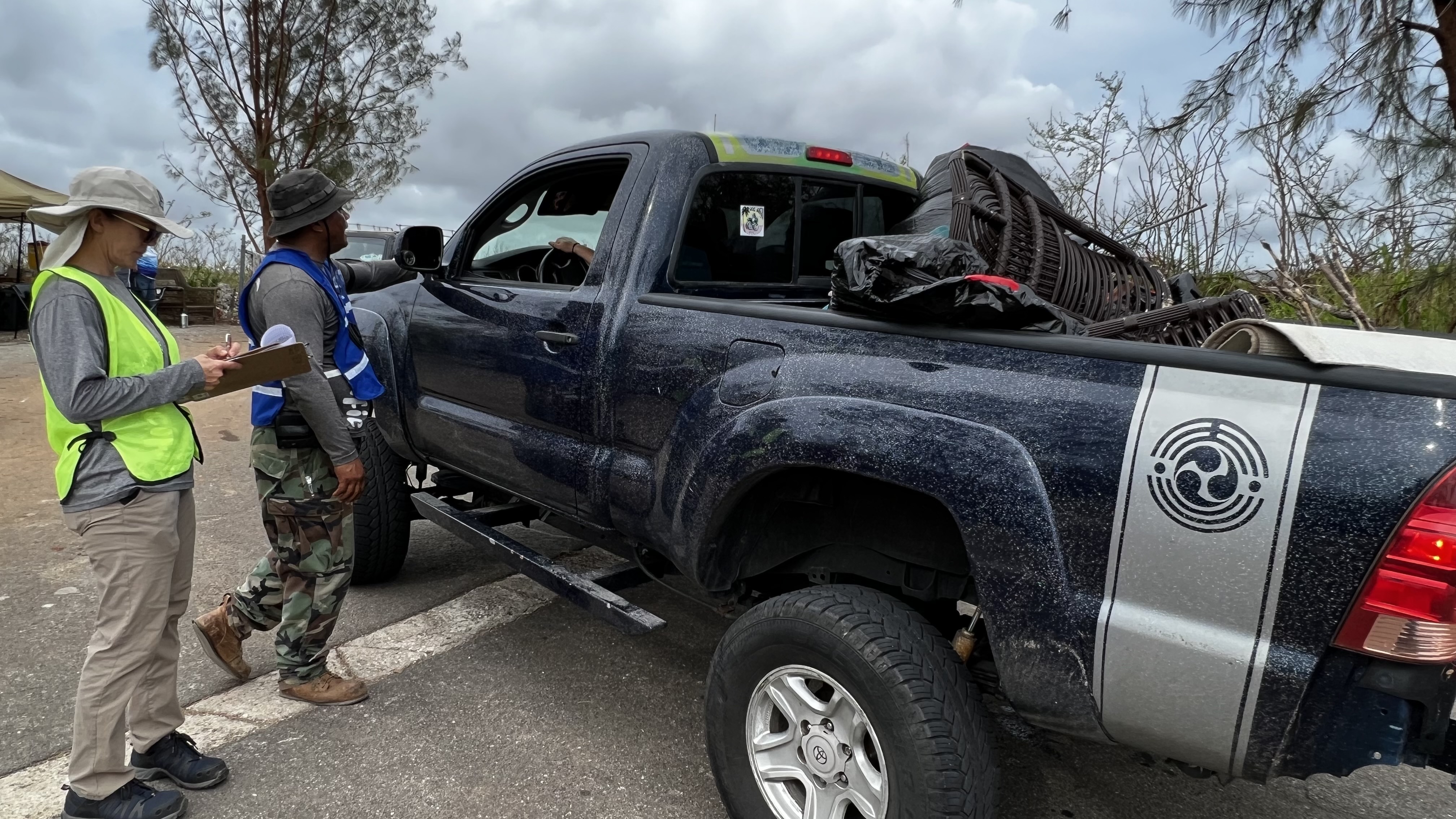 The heavy winds received by vegetation and infrastructure are what caused the significant increases in solid waste. Guam EPA operated three disaster debris disposal sites in Dededo, Tiyan and Tamuning to assist the community with solid waste management.
"The disaster debris disposal site operations and maintenance are carried out through our collaboration with valuable local stakeholders like the Office of the Governor, the Offices of Guam Homeland Security and Civil Defense, the Mayors' Council of Guam, the Guam National Guard, Department of Public Works, Department of Agriculture, AmeriCorps, the Serve Guam Commission and the Department of Public Health and Social Services. Federal stakeholders like the U.S. Army Corps of Engineers, the Federal Emergency Management Agency and U.S. EPA lent support functions like technical and financial assistance to our local operations relative to the disaster debris disposal and green waste transition sites," said Rupley.
The Journal asked but the agency was unable to provide quantifiable costs for personnel, resources or assets associated with fixing or cleaning up sites.
mbj