SPECIAL FEATURE
Serving multiple employment needs in Guam's business community for 35 years
Established by Maureen Newman, Guam Temps developed a simple yet effective business model to assist prospective employers and job seekers to find each other.
"It was something I never planned to do," Newman said.
She moved to Guam in 1986, and as a favor to friends began helping the offices of doctors and lawyers with typing, she told Guam Business Magazine in 1988. Word of her work spread, and she was quickly overwhelmed with requests. "It was too hard for me to say no to them, so I started recruiting friends," she said.
The business grew from there. Newman then used her experience as a legal secretary in California and began qualifying and sourcing candidates to work at those law firms.  
In 1988, Newman added temporary employees to her list of office services and changed the company's name from Executive Typing to Executive Typing & Employment Services.
Because of the success of the business, Newman said she never had to take out a loan for the business as it expanded.
In 1991, Newman moved to Seattle, and began to operate the business remotely — at the time a forward looking and sophisticated strategy that today would be common. Many of Newman's clients told her it would be impossible to operate a business from 7,000 miles away, she told Guam Business Magazine.
"But we had great faith in our office staff," she said. "It was a risk, and it has broken all of our expectations."
In 2012, the name of the business was changed to Guam Temps to identify the services it provided more clearly.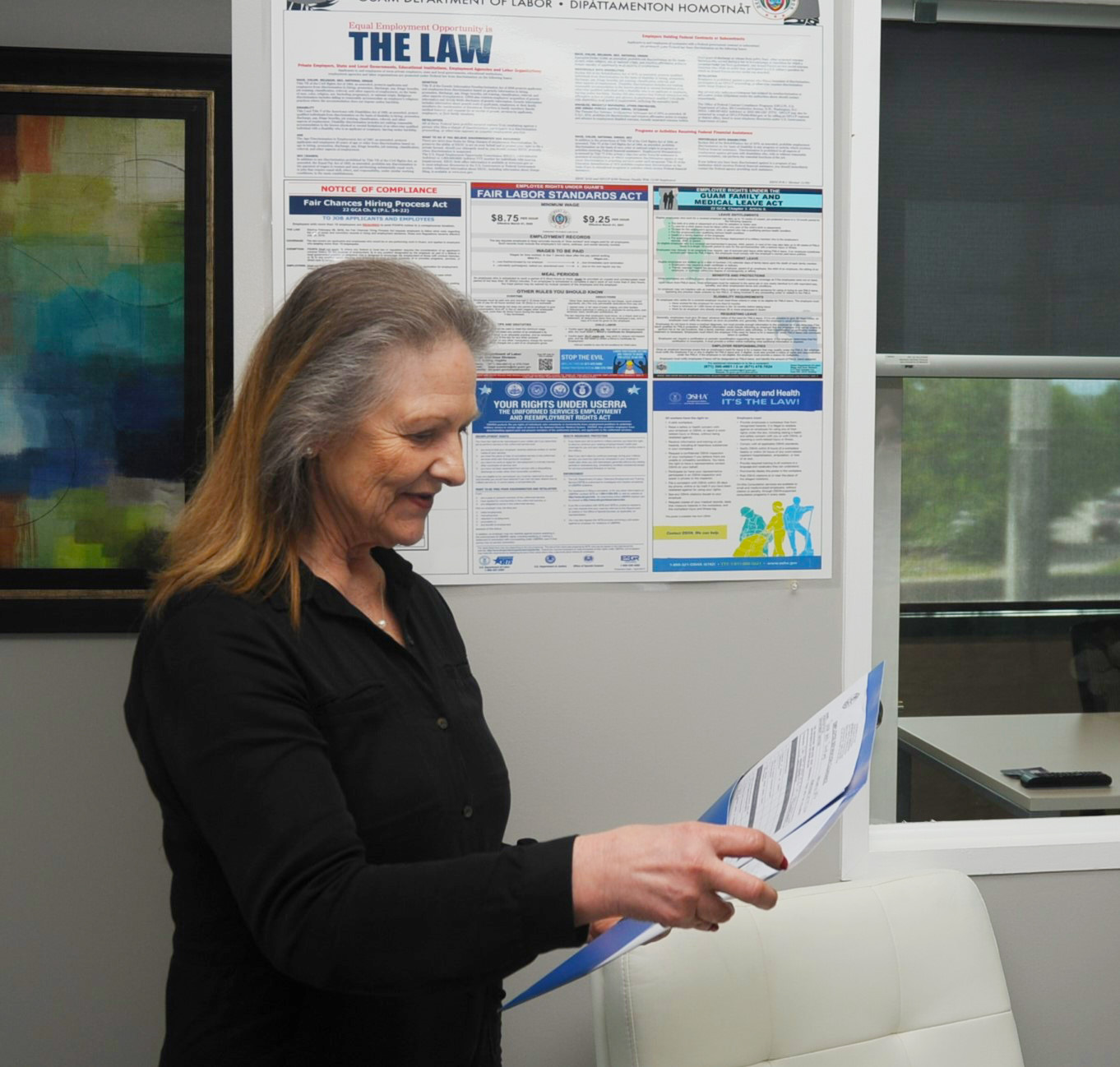 Following several years of a career in marketing, Jennyne Guzman first joined Guam Temps in 2015 as an executive assistant, progressing in 2016 to office manager, and to general manager in 2021.
Guzman officially cemented her relationship with Guam Temps in 2022 — with the announcement that she was named as president and majority owner, alongside Newman, who is vice president.  Guzman retains the title of general manager.
Newman says she is confident that Guzman "will propel the company to new heights."
Christie Uncangco, board secretary and recruiting account manager, completes the executive team.
Guam Temps continues to offer on-island and off-island employers a variety of services, has solidified its position in the market and continues to develop relationships with new clients.
"A strength of Guam Temps is definitely its reputation and unique service. As a staffing business, there's always a need for our services, and we are grateful for not only our clients but the job seekers we are able to assist in finding employment opportunities.  We fully understand the obstacles to finding good employees, and candidates to finding successful employment, so our work is never done," Guzman said.
Guam Temps offers placement of temporary, contract, temp-to-perm, and direct hire positions — designed to cover a detailed check list for clients.
"Each of those services includes a) recruiting, which includes employee background checks, skills verification, and onboarding; b) payroll for temporary and contract employees, which includes weekly payroll, required tax filings to government agencies, and recordkeeping," Guzman says.
Services are charged on a case-by-case basis, but are free to employees.  
The reasons why companies and individuals gravitate to Guam Temps are multiple. For businesses, Guzman said the reasons are "because we save them time and money, while at the same time acting as their personal, off-site human resource department.  
"Candidates sign on with us because we link them with job opportunities that are in line with their background, interest, work experience, and wage requirements," she said.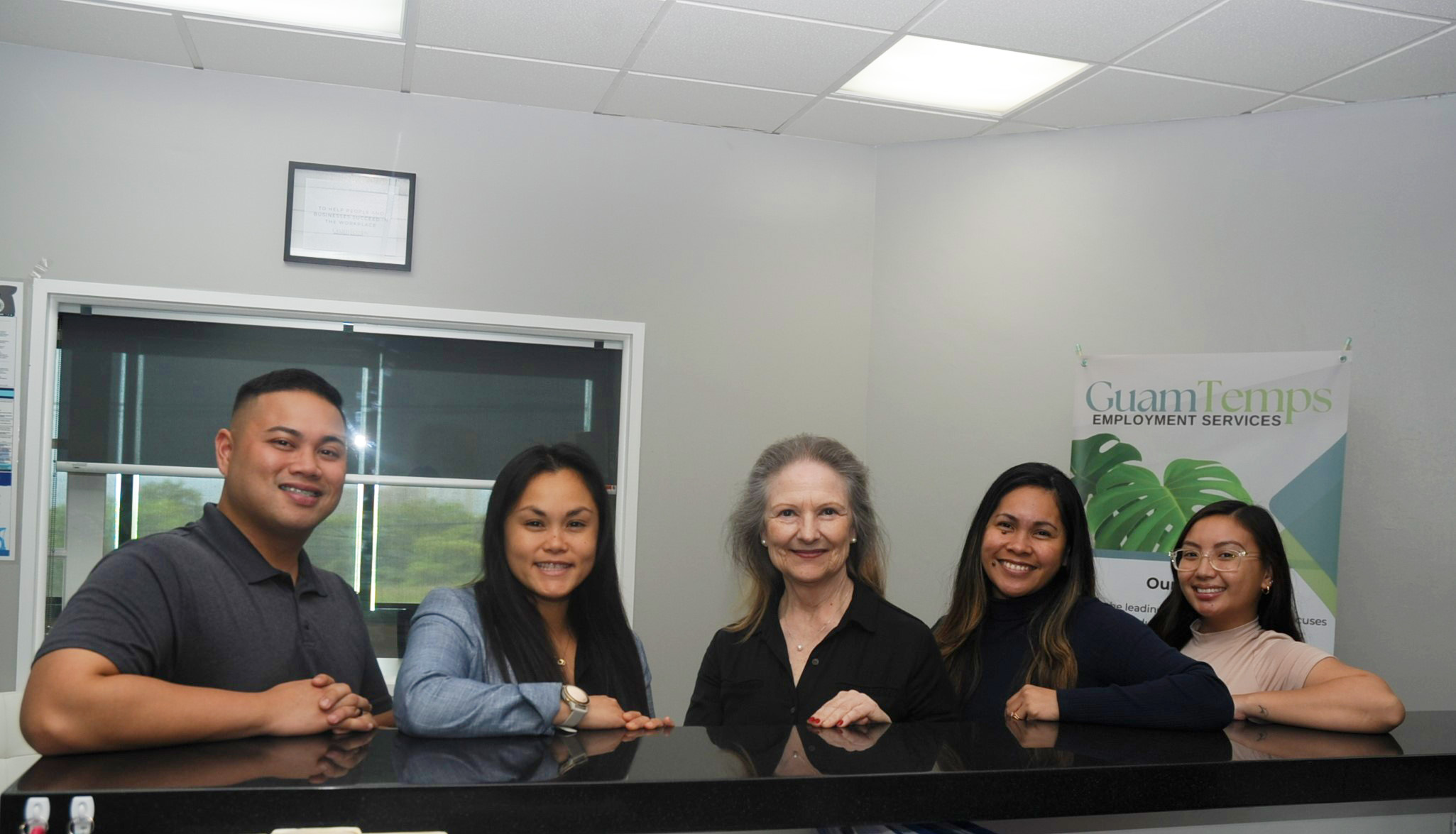 Guam Temps is located in the East West Business Center in Tamuning, where it has been since 1996, and has a five-person in-house team. The business is a member of a variety of civic organizations and Guzman herself devotes time to the Guam Chapter of the Society for Human Resource Management as a membership director of the SHRM Pacific State Council, and the Guam Chamber of Commerce Business Women's Network as a committee member.
After 35 years, Newman and Guzman would like to thank the multiple businesses that support Guam Temps. The executives said, "We could not have celebrated 35 years without the Guam community.  As a small company, providing a unique service, we are fortunate and blessed to have worked so closely with the island these many years. We will continue to be available to help businesses to succeed by sourcing top-tier candidates for them.
mbj