BY MAUREEN N. MARATITA
Journal Staff
The years have been good to Guam Temps Employment Services. The small business has seen steady income in its 35 years and its team have enjoyed meeting a steady need for its services.
Jenynne Guzman, the president and general manager is based in Guam, while Maureen Newman its founder and vice president, lives in the U.S. mainland, but visited Guam in May. "We always had an office manager and would be in pretty constant communication. I would come back and forth during those times," Newman said.
That the business has consistently grossed more than seven figures in gross income is impressive, given the size of its team of five.
In the early years, the workforce the company drew from was largely administrative, predominantly female and worked in office settings. The migratory military population was where Newman began to join the dots for services for island employers. "I started with the dependents up at Andersen Air Force Base, "Newman said.  The work flowed in. "Apparently it was a niche here on the island," she said.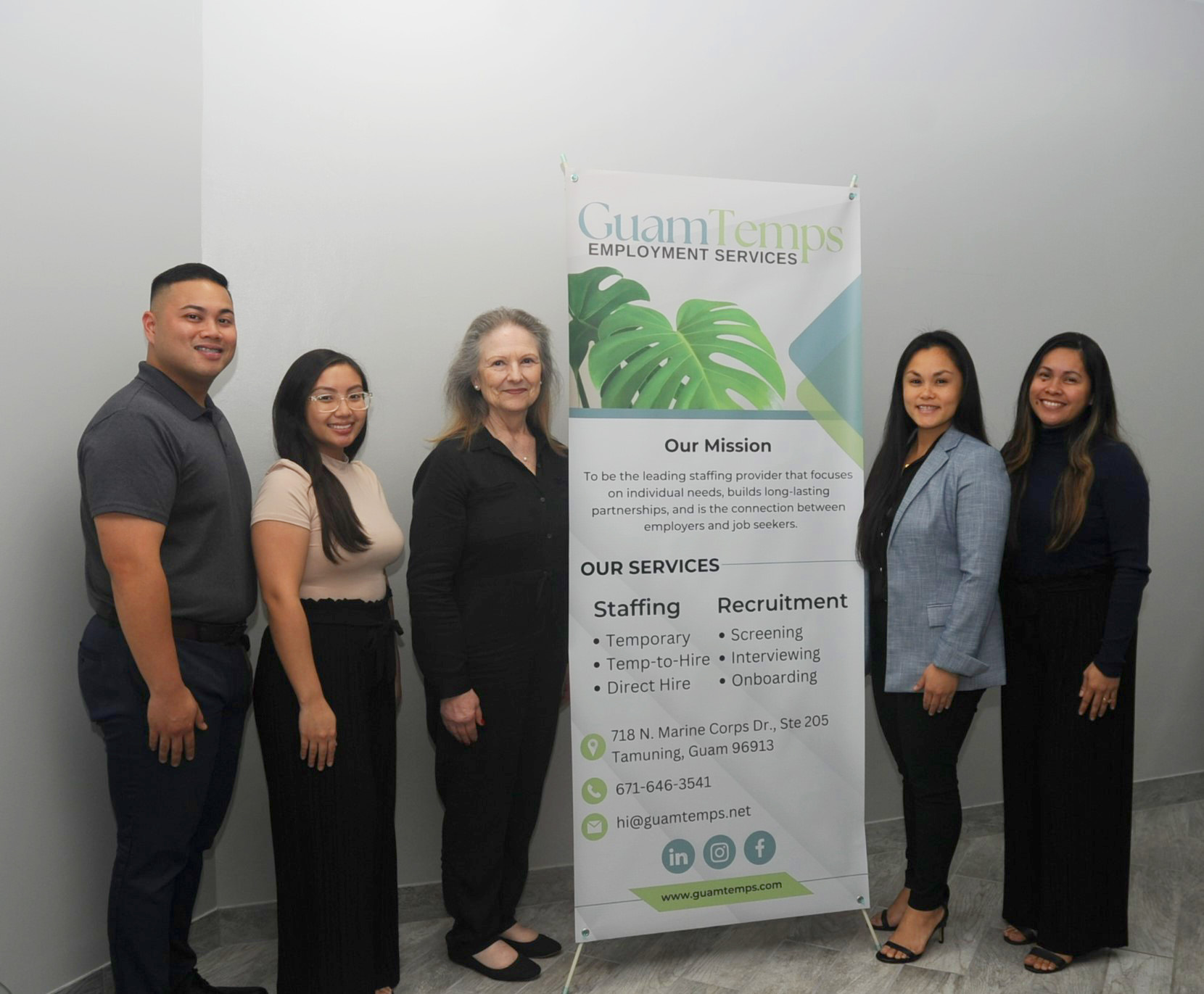 These days, support for women in business includes the Guam Women's Chamber of Commerce and the Business Women's network of the Guam Chamber of Commerce.
"There was nothing like that when I was here," Newman said. She lived on-island from 1987 to 1991. And whatever outside attitudes were in those days, she says they did not affect her, or her view of the island. "I was just trying to provide a service to companies who needed those people and explain what" she said.
As employers would advertise for help, Newman would reach out to them, and explain a service that was new to Guam.
"I would go out to those companies and introduce myself and explain to them what a staffing placement firm does, because they really didn't know."
The business developed as a growing concern. "I would up with a lot of business, and it was exciting for me because the employers were so happy." she said. In addition, the workforce diversified. "Then they became more local."
Growth happened, Newman said. "There was no business plan. There was no sitting down and saying, 'I'm going to need an office and it's going to cost this much,' and 'I'm going to need equipment and it's going to cost this much.' It just was all by the seat of my pants."
Newman's background may have helped.
"I grew up a responsible person," she said. "I had custody of my sister and brother when I was 18 years old. I became an adult very young."
Additionally, she says, "I still have that entrepreneurial spirit." While Newman recognizes the challenges, she said, "I enjoyed being part of something that provided a service for others that had value to them." There was a tangible effect, she said. "For a business on Guam to receive my invoice and be happy to pay it and have applicants turn into employees – whether they're temporary or they're contract, or temp to perm, or they're full placement – to have an opportunity that they might not have found otherwise. That was my motivation."
A positive reputation has helped Guam Temps succeed, she said.
These days the business serves a wide range of employers, which includes Fortune 500 names as well as small businesses like Guam Temps. Recent assignments included the staffing of more than 150 contract employees for the DanDan Solar Field project in Malojloj from 2016 to 2018.
In addition, the business has become increasingly able to actively source clients and its team includes a recruiting account manager as well as other staff with personnel skills, also benefitting for some time from the skills of Newman's son, Tim Shepherd, who returned to Guam – his birthplace – and as senior partner also leaned in to the business from Seattle.
Notably, when Guzman became president and general manager in 2001, it was the first time there was an arrangement that defined the future of the business. "It was one of the best decisions I ever made," she said of the succession plan now in place.
While the two communicate all the time, Newman said, "Jen's doing the job. My position now is really more mentoring her on what I know, and what I've experienced."
The business now has a firm local profile in the community, further supported by the outreach Guzman oversees in Guam, but to its relations within the island's civic organizations. Guzman's membership of the Guam National Guard also brought in a further understanding.
"One of the things Mo (Maureen) and I are working on now is to get us certified to be a women-owned small business; to be a veteran-owned small business because of my military background, and now we're going to look into HUB-Zone – taking it a step further and being able to bid for federal contracts," Guzman said.
"We've never been in that kind of arena to actually put our bid in. We've always been either a sub-contractor, or assisting a company that had a project on-base and we were 'third item down.' I want us to put our name in the hat," she said.
The HUBZone program aims to increase small business growth in historically underutilized business zones, with a goal of awarding at least 3% of federal contract dollars to qualified businesses. 
Fulfilling its potential would also see Guam Temps add to its team of five, Guzman said. "I don't see that just yet, but definitely growing the team would come with us having the projects, having more job orders to fill."
The potential for a third recruiter or a front desk person would assist with demand, she said.
Newman said Guam Temps will inevitably spread its wings. "We have an employee who is relocating to Washington, D.C., and will remain as an employee and work remotely – not only for her clients on Guam, but our stateside clients. She will be able to develop personal contacts with them as well. We see it as a very interesting opportunity to branch out into more of a service."
The U.S. mainland is experiencing the same personnel problems as Guam is. "The staffing firms are doing really well over there, because companies are having such a difficult time finding employees," Newman said.
Guam Temp has seen outreach from the mainland as companies are awarded military construction contracts for the region. Guzman said the company is able to assist them. "There's always going to be some sort of need," she said. Guam Temps is able to source required employees, she said. "We use our own resources; we have our own networking. We've never had to hire someone off-island to come here."
Guzman said, Guam Temps also takes the role of employer for clients. "In some instances, companies would send their employees here and just use us."
The future may hold specialized training – available in Guam – for Guzman as she prepares Guam Temps for expansion. "I've realized that my potential is limitless," Guzman said. "I'm always thinking of 'What more can I do?' What more for the team can I provide?'"
She says growth of the team would lead her to source people who are "smart, kind and fun people to work with. It's important to have a good company culture. It's important to treat your team as your family because we spend more time with our co-workers than we do with our own families."
Guam Temps has never looked for outside financing. However, Newman said, "I can see with new certifications coming along and getting contracts on our own as opposed to merely supporting winners, that there would be a need for more help, maybe larger space. We might need project managers who could go out and be a part of those contracts."
That scenario is highly possible, she said.
"In that case, I can see an opportunity to borrow enough to get that going."
Another plus would affect the whole team, she said. "That way, we're able to treat our people well. And when we can treat them like we value them and they are important to us the loyalty and the dedication comes naturally. And it feels good to us. I'd rather be doing that than rubbing pennies together."
mbj