Power could be quickly restored to homes and businesses following typhoons – assuming they go out at all – if the island's power transmission infrastructure were underground.
That's going to cost billions of dollars that would triple local customers' power rates, according to Guam Power Authority General Manager John Benavente, who spoke to Guam Chamber of Commerce members during a post-typhoon forum at Hyatt Regency Guam on July 7.
Benavente pointed out that Guam Memorial Hospital, Guam Regional Medical City, and other facilities as well as homes in areas where power transmission lines are underground were back on island power by May 25. A number of residential customers, including those living in parts of Tamuning, Hagatna, Barrigada Heights, reported power restoration to their homes shortly afterward. Typhoon Mawar, with sustained winds of 140 mph and gusts over 160 mph, hovered for about 10 hours over Guam beginning the evening of May 24, wreaking havoc on GPA's above ground infrastructure.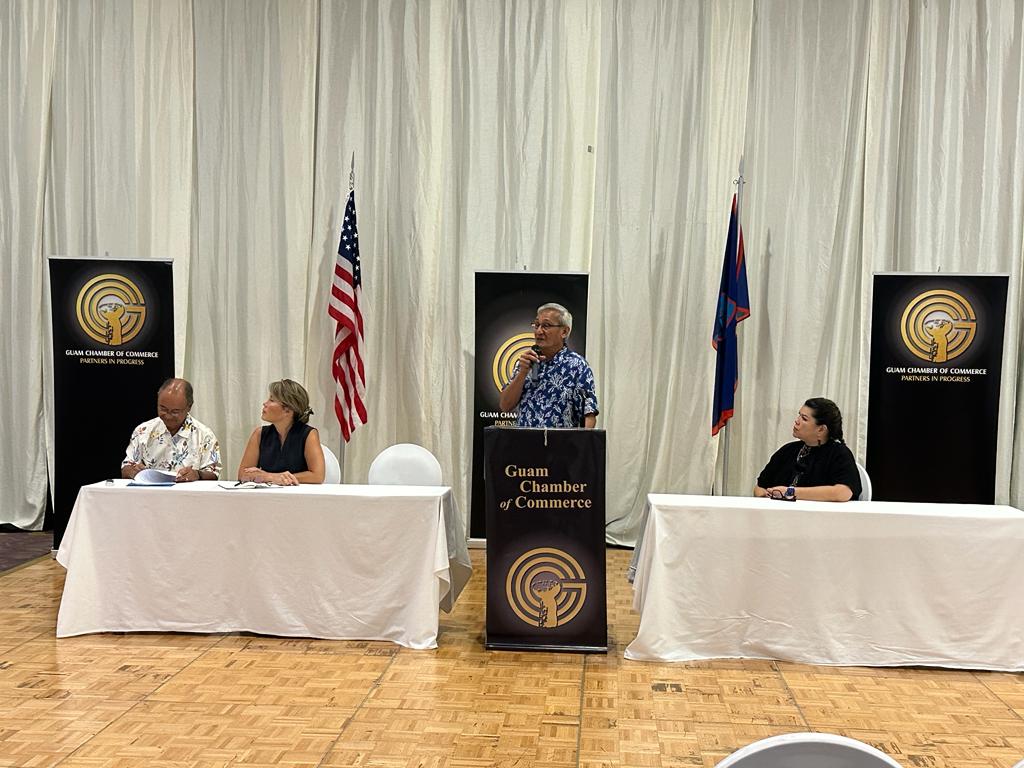 Benavente pointed out that in the weeks following the typhoon, crews had to repair above ground lines and infrastructure, which meant power outages for a few hours a day for most customers.
"That's why (an) underground transmission system throughout the island is really important … (because) we can immediately start restoring power," Benavente said, adding that Andersen Air Force Base has not had a power blackout since 2012 because their transmission lines are underground making it "a very reliable system."
Simon Sanchez, chairman of the Consolidated Commission on Utilities, said the price tag for GPA and Guam Waterworks Authority's modernization and hardening in the face of climate change and the more typhoons that are expected could be covered by the federal government to help support national defense.
"Its grid must be hardened to withstand conflicts facing the nation and from national disasters, most especially super typhoons," Sanchez said. "It is expected that these plans to harden Guam's energy and water infrastructure could approach $7 billion to $9 billion over the next five to seven years. The infrastructure investments to be made are not significant compared to the tens of billions already being poured into Guam by the Department of Defense. But these additional investments are a foundation that must be strengthened to ensure power, water and wastewater resiliency. For it is Guam's critical infrastructure systems that are the foundation of operations by the many elements of the U.S. Armed Forces that project U.S. power in the Indo Pacific region to ensure the US national defense and indeed the safety and security of the global order."
GPA is the sole provider of energy for Guam's civilian and military consumers, Sanchez said. GWA provides water and wastewater services to the civilian community, serving many active duty and federal support service workers who live off-base. GWA also provides wastewater services to Andersen Air Force Base and Marine Corp Base Camp Blaz. He said the utilities agencies' plans would also mean less emergency dollars are needed to restore services.
"A resilient system investment will mean less disaster assistance necessary in the decades to come. It will also protect the billions in military investment and assure military readiness while also providing a huge positive impact on the quality of life for the community both civilian and military and their dependents," Sanchez said.