MilCon news:
GSI-Pond JV LLC
(listed as of Flemington, New Jersey where GSI's North America office is), was awarded an $11,78 million firm-fixed-price task order as part of a multiple award construction contract, with three offers received for the work at Defense Fuel Support Point Guam at Andersen Air Force Base. The task order provides for cleaning, inspection, repairs, inspection of repairs, and coating on Tanks U2, S5, and U18, according to a release from the U.S. Department of Defense.
Work is due to be completed by July 26, with the award made by Naval Facilities Engineering and Expeditionary Warfare Center of Port Hueneme, Calif.
GSI companies are subsidiaries of the Native Hawaiian Community Development Corp., a Native Hawaiian Organization. GSI Pacific Inc. has been doing business since 2007 and has an office in Guam. Fuel and construction clients have included IP&E, for which it built the $1.7 million Shell gas station and convenience store opposite Micronesia Mall, and the Air Force Civil Engineer Center, for which it executed an $8.2 million design-build project in Wake Island for a mission-critical tank, according to the GSI website.
Pond was originally founded in 1965 as Armour & Associates, later doing business as Armour, Cape & Pond. In 1998, the firm changed its name to Pond. Pond has a history of awards as part of JVs. The Pond-CDM Smith JV LP was awarded a $42 million task order in February for work at eight Pacific Air Force locations, including Andersen Air Force Base.  
Pacific destinations among eight ecosystems to be rewilded
The Scripps Institution of Oceanography at the University of California San Diego has chosen "

the first eight island-ocean ecosystems selected to be restored and rewilded from ridge-to-reef." Scripps said on April 11 that the locations include

Ngerkeklau Island, Sonsorol State and Ulong Island in Palau, as well as Midway Atoll in the North Pacific.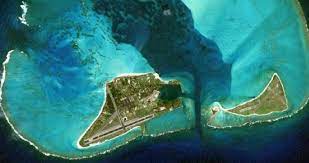 Through the Island to Ocean Connection Challenge, efforts are "f

ocused on holistic restoration to benefit wildlife, oceans and communities," according to Scripps.
Other locations are in the Galapogos and French Polynesia.
"The first eight island-ocean ecosystems selected for the IOCC are home to some of the most biodiverse and threatened ecosystems on the planet." said Penny Becker, vice president of conservation at Island Conservation. "The restoration and rewilding of these island-ocean ecosystems will have dramatic results for native wildlife, the surrounding marine environment, and the local communities dependent on these natural resources, serving as a model for other island-ocean ecosystems."  
The restoration and rewilding of the island-ocean ecosystems, some of which is already underway, will involve various activities, including the removal of invasive species, the reintroduction of native species, the restoration of habitats, and the protection of marine and terrestrial ecosystems, Scripps said. For more about the program see https://jointheiocc.org/
Hotel rebrands to chain name
Hoshino Resorts has re-named the former Onward Beach Resort Guam as Hoshino Resorts RISONARE Guam.
According to Journal files,

Hoshino Resorts purchased the Onward

from Onward Holdings Co. Ltd. (formerly Onward Kashiyama Co. Ltd.) for 8.5 billion Yen, or about $73 million in stock shares and receivables. Hoshino Resorts was founded in 1914 and has multiple brands.
According to Journal files, the Onward Agana Beach Hotel opened in 1992 with 285 rooms, and in 2001 expanded with a tower that added additional facilities and took the hotel to 428 rooms.
Onward purchased the Mangilao Golf Club in 2006 – currently the Onward Mangilao Golf Club, which it retained together with the Onward Talofofo Golf Club, which opened in 2006.
The Journal broke the story of the Hoshino Resort entry to the Guam market on March 15, 2022. Sign up for complimentary news alerts at www.mbjguam.com
Upcoming job fairs:
Trident Seafoods will be recruiting in Guam at the Hilton Guam Resort & Spa on April 15 and April 15, according to its website. Trident is looking to recruit seafood processors for its plants in Alaska. As of Dec. 26, Trident began offering $18.06 an hour, with an overtime rate of $27.09. Applicants are asked to pre-register online and show up at 8 a.m. to be guaranteed an interview.
The University of Guam is hosting a job fair for employers to connect with alumni and students on April 28 at the UOG Calvo Field House from 9 a.m. to 2 p.m. Employers can register at

 

url.uog.edu/job-fair

at a cost of $75. 
Port master plan moves to review and public hearing
The Port Authority of Guam transmitted its 2023 Master Plan to the Guam Bureau of Statistics & Plans "for review, public hearing and final adoption," the agency said. No timeline or final date was given by the port authority.
According to an April 10 release, the port master plan goals are

to
Provide a comprehensive overview of the Port's current conditions including governance, financial, operational, and physical attributes;
Assess the current and projected cargo opportunities based on Guam's market drivers, which consist of military realignments, tourism, transshipment and organic growth;
Determine near-term resiliency improvements and operational adjustments to accommodate the peak of the military build-up, support Indo-Pacific Command's Pacific Deterrence initiative (PDI) and ensure maritime posture for future deployments of military assets;

Estimate the Port's capacity and ability to meet the projected demand and tenant requirements;

Identify long-term port improvement efforts targeted towards continuing operational and economic sustainability;

Establish optimal requirements for operations, maintenance and repair, and capital improvement projects;

Validate the efficient and effective use of the Port's resources and assets;

Present commercial strategies for PAG to diversify its revenue base and enhance its financial self-sufficiency including a comprehensive tariff simplification and associated benefits to the PAG and port users;

Assess the impact of the recommended strategies on Guam's economic conditions; and

Prepare implementation programs to support a coordinated approach of continuous Port improvements balanced with sustainability.
In other port news, the Guam Customs and Quarantine Agency, in conjunction with the
National Oceanic and Atmospheric Administration and the Port Authority of Guam held an April 5 ribbon cutting for the customs agency's Maritime Interdiction Task Force's Boat House
located at Seaplane Ramp.
Construction of the facility began in 2019 and was funded by the U.S. Department of Commerce,
NOAA National Marine Fisheries Services Office of Law Enforcement, Joint Enforcement Agreement. mbj