BY OYAOL NGIRAIRIKL
Journal Staff
MALAKAL, Palau — Palau is striving to rebuild its economy, aiming for additional airlines and routes to enter the market, like Air Niugini's flight from Brisbane in Australia to Palau via Papua New Guinea. The country also has mainstays like the United Airlines flights to Guam and the Philippines, and the fully-booked China Airlines flights between Palau and Taiwan.
The Palau Visitors Authority on March 30 reported a continued increase in tourism numbers. In February there were 2,415 visitors; 21% more than January's 1,989. That's a 366% increase over Palau's February 2022 numbers of 518 visitors. 
Taiwan visitors lead in arrivals, representing 38%, followed by the U.S. and Canada with 36% and Japan with 14%, according to PVA statistics. 
In what is already a volatile industry, Samuel Scott, founder of Sam's Tours; has experienced the changes in the tourism industry in Palau since his early days of working in the tourism industry.
Scott is looking forward to a rebound in tourism.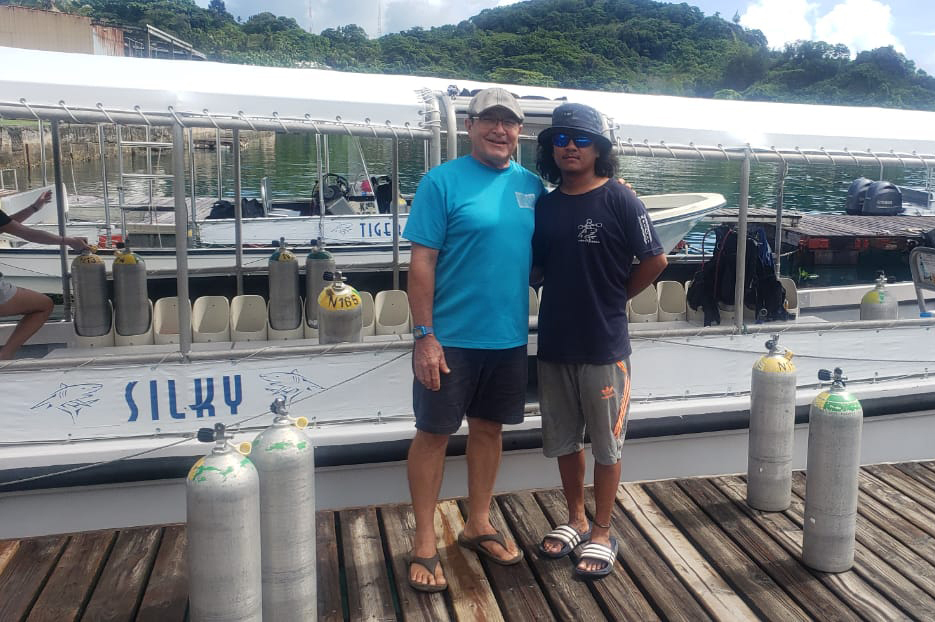 He said the tourism industry barely existed in Palau when he first got a taste of it in the 1970s. But he could already see that taking tourists around to see the sights and snorkel at one or two spots beat making $1 an hour at his stepfather's restaurant, formerly the Burger Hut and now the Rock Island Café.
"I would take tourists out on his boats," Scott said, referring to the late Paramount Chief  or Ibedul Yutaka Gibbons. At the end of each day, Scott said he would give Gibbons the money remaining after expenses for the trip were paid. "He would give me half and he would take the other half." 
And not too long after that, the Ibedul told him to keep one of his boats, and said, "I want you to become a big tour operator."
At that time, there were a few established tour businesses, including Fish n' Fins, and Carp Dive Center. Splash at the Palau Pacific Resort had just opened, and there were some small Japanese tour operators, Scott said. 
"I'm guessing there were maybe 5,000 visitors a year," he said. "It was competitive with the small amount of tour operators at that time."
As the years went by the number of tourists increased but it was manageable, something Palau could handle, Scott said. Visitors were mostly divers and people interested in Palau's natural beauty. 
Scott opened Sam's Tours in 1990. 
In the early 2000s, Palau recorded an average of 75,000 visitors a year, based on Palau Visitors Authority data. 
"The divers were the high-end tourists that had disposable income," Scott said. 
Japanese visitors made up the largest group in those years. In fiscal 2008, there were 29,586 visitors. The market remained steady at 29,350 in 2009, and in 2010 saw a slight drop to 28,046 before increasing to 37,759 in 2011. 
Taiwan visitors were a close second with 27,785 visitors in 2008, but those numbers dropped almost by half in 2009 to 14,569, picking up again in 2010 with 22,209 visitors and also increasing in 2011 to 32,682. 
And then Chinese tourists started arriving. From 634 visitors in 2008, the market sector doubled in 2011 to 1,656 and doubled again in 2012 to 3,715. 
By 2014 there were 21,706 and by 2015 there were 91,174 tourists from China alone – that's more than the total number of tourists Palau used to attract in 2008 through 2010.  Chinese tourists almade up almost half of the total 168,770 visitors in 2015, far outweighing the second highest visitor base of Japan at 31,786. 
"When you start bringing in the mass markets … it takes away from all the higher-end customers coming here for many years," Scott said. "You saw a lot of tourists, Chinese hotels, Chinese restaurants," he said. 
 "It was like … we've taken this remarkable tourism destination and turned it into something totally different." 
Scott, who is a member and current president of the Palau Chamber of Commerce, said the "tax revenue was barely increasing, even though numbers were high." 
 Palau was moving "just a little too fast into what I would have considered a mass market," he said.
"It wasn't necessarily a quality type of customer we wanted coming here," he said. Around 2010, as numbers started increasing, Palau began to consider sustainable tourism policies to try to ensure a balance between tourism dollars and protecting the environment — the attraction that brought tourists in the first place. 
From a business perspective, Scott said a mass market label wasn't what he had envisioned those many years ago when he started Sam's Tours. He said he always focused on giving his guests the experience he had when he first enjoyed Palau's ocean and saw the vast and colorful marine life.  
"There were just so many tourists," he said. "We would go to jellyfish lake and having 450 people there … it took away from the pristine experience." 
Then came the geopolitical shift that changed tourism. China wanted Palau to no longer recognize Taiwan. Then-President Tommy E. Remengesau Jr. refused. And the Chinese tourist influx dried up. 
Scott said while it hurt some companies that had supported Chinese tour operators, tourism numbers shrunk back to early year 2000 numbers. But Palau still had tourists, he said. 
When COVID-19 struck in 2020, tourism essentially stopped. There was no travel and Palau had closed its borders. Only medical and emergency personnel were still able to travel to and from the country. 
While it did hurt the market, it was also a time to reset, Scott said. 
"I think Palau had a nice wake up call. The pandemic gave everyone a chance to reassess the value of the tourism industry."
Unlike other businesses, he never closed shop. But staying open meant taking a loss, he said. 
"It's not been an easy ordeal. I'm probably deeper in debt that I've ever been, only because I didn't shut down the operation," he said. Scott remained bullish about Palau's economy, having seen the ebb and flow over the years. "I acquired the property next door. Now the plans are to keep expanding and build up. We're in business now for 32, going on 33 years of operation. In 2025, we'll celebrate 35 years." 
Business is picking up, he said.
Prior to COVID-19 he had about 60 employees to cater to upwards of 200 guests a day. He now has about 30 employees and Sam's Tours is limiting the number of seats it sells daily to about 50 guests.  
"That's something we never did before," he said. "We've come to the realization (that) you're diminishing the quality of the experience for divers when (you take on too many)." 
He said the pandemic "definitely helped us get back to the original intent … of providing a service to our guests."  
Moving forward, he said the government needs to do more to help the tourism industry evolve and grow with the changes in the needs and wants of tourists. Training in hospitality and tourism industry is still needed, as well as programs to help young Palauans take advantage of what he feels is a new tide coming for Palau. 
Scott is married to a Palauan and his children — as Palauan citizens — are the owners of the company today. "I want to see more Palauans getting involved in the tourism industry … on the jobs side, but also as entrepreneurs. If Sam can do it, anyone can." mbj