Guam is now under a state of emergency due to the water supply shortage even as more rain is expected by a nearby tropical disturbance.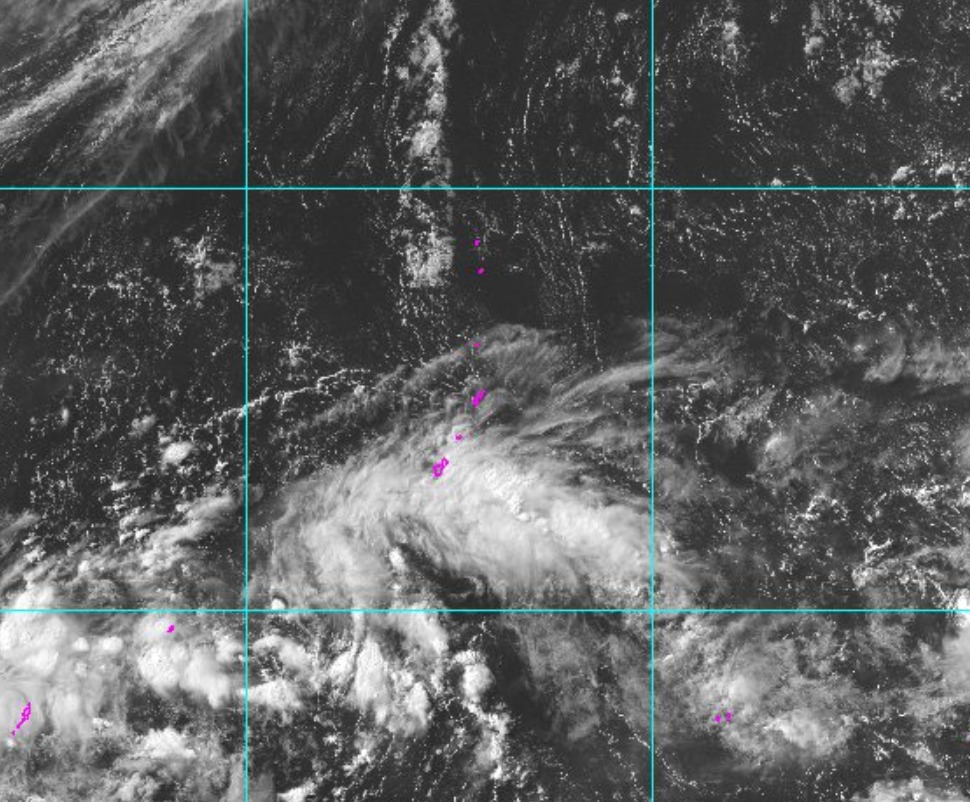 Gov. Lou Leon Guerrero issued Executive Order No. 2023-04, which orders Guamanians to limit use of Guam Waterworks Authority-provided water. The order makes it a petty misdemeanor "for any person to use water supplied by GW A for any unauthorized purpose not pertaining to public health, safety and welfare."
The executive order forbids "specific unauthorized" use of water including washing motor vehicles, windows, streets, sidewalks and buildings. It is effective immediately and expires June 18.
Typhoon debris disposal sites open June 4
The Guam Environmental Protection Agency (GEPA) along with the Guam National Guard, Department of Public Works and the Guam Department of Agriculture will open four typhoon debris disposal sites.
The typhoon disaster debris sites will operate seven days a week from 6 a.m. - 6 p.m. It will accept the following waste types:
Metallic waste (i.e. ferrous, non-ferrous metals, cans, misc. loose metals and tin)

Construction debris (i.e. building materials, drywall, lumber, carpet, furniture, plumbing)

Household hazardous waste (i.e. Oil, batteries, pesticides, paint, cleaning supplies,

Green waste (i.e. vegetative debris, trees, grass clippings, branches, logs, leaves)

Damaged home furniture (i.e. carpet, beds, sofa, tables)

Damaged electronic and appliances (i.e. televisions, computers, refrigerators, washers, dryers, stoves)
Three sites will open June 4 at 6 a.m. A fourth site will open on June 5.
Opening June 4:
Dededo Transfer Station

Ypao Point

Former Tiyan Carnival Grounds in Barrigada
Opening June 5:
DYA Cottage Homes in Talofofo
GEPA personnel will be on-site to inspect debris loads, and waste types not approved for disposal at these four sites will be rejected. The identification, transportation and disposal of household hazardous waste is made possible through the coordination of the Federal Emergency Management Agency and the U.S. Environmental Protection Agency.
Power update
Twelve line crew personnel from Commonwealth Utility Corporation (CUC) CNMI will be arriving Sunday morning to assist the Guam Power Authority with restoration and post-typhoon recovery efforts.
On June 3, GPA reported three additional feeders/circuits were added to the island-wide system for a total of 52 feeders/circuits that are partially energized today. A total of 23 critical substations were energized of the 24 total major GPA substations. Humatak substation restoration is in process.
Current generation capacity is 111MW of capacity online supporting a 92.7MW load. Work continues to dry out base load units Piti 8 and 9, and Cabras 1 and 2, as they proceed toward being placed online within the next few days.
GPA reports that as of 1 p.m., June 3:          
46% of the System Load (Customer Demand) has been restored.

95.8% of GPA's Substation Energization has been restored.

82.5% of GPA's feeders/ circuits have been energized/restored.
Customers can contact GPA's 24-Hour Trouble Dispatch at 475-1472/3/4 or via direct message on GPA's Facebook page at www.facebook.com/GuamPowerAuthority. 
Water update
The Guam Waterworks Authority (GWA) provides this Water System Status update:
Northern:
GWA northern water system is operating normally.

55% of operable wells are online.

There are currently 23 wells on island power and 43 operating on generators.

GWA continues to operate all available wells to increase reservoir levels throughout the northern system and send more water to the Central System
Central:
GWA resources and Navy-supplied sources continue to supply Santa Rita and Agat, except in the higher elevation areas of Santa Ana.

Service on Cross-island road area restored up to Our Lady of Peace.

The Sinafa area and higher elevations of Santa Rita on Cross-Island Road remain without water.

Talo'fo'fo main village has been restored but remains susceptible to outages as reservoir levels drop during high demand. Crews continue to monitor the system.

Tumon, Tamuning, Chalan Pago, and Sinajana will continue to experience intermittent service disruption during peak demand times.

Most of Mangilao remains without water service.
Southern:
GWA's southern water system continues to operate at reduced capacity due to damaged control equipment at the Ugum Surface Water Treatment Plant.

Water services are restored from Ipan to Umatac, however, higher areas in Umatac have no water until operators can build up water levels in the 1-million-gallon Umatac Sub Reservoir.

Residents in Yona in extreme high elevations are without water.
GWA has nine 6,000 gallon water tanks at the following locations:
Dededo Mayor's Office, Dededo

Yigo Gym, Yigo

Astumbo Fire Senior Center

Mount Santa Rosa (near observatory), Yigo

Santa Teresita, Mangilao

Shop 4 Less – stationed at the rear of the building on S. Biang St., Maite

Umatac Memorial Park, entrance to Umatac

Malojloj Old Mayor's Office

Santa Rita/Apra Heights - Sinifa
The water tanks listed above are accessible 24 hours a day/7 days a week at this time. Once the tanks are depleted, they will be refilled and returned to service at locations still without water. Residents island-wide who have water service are advised to conserve and limit use for cleaning, bathing, and cooking to allow reservoir levels to increase.
A precautionary boil water notice remains in place. Boiled or bottled water should be used for drinking, making ice, brushing teeth, washing dishes, and food preparation until further notice.
Residents island-wide, who have water service, are asked to limit use for cleaning, bathing, and cooking in order to conserve water to allow reservoir levels to increase.
For information, contact GWA's 24/7 phone line at (671) 646-4211 or go to www.facebook.com/guamwaterworksauthority.
Weather update
Guamanians can expect more rain and gusty winds from June 3 to June 5 as tropical system Invest 98W makes its way through the region.
Joint Typhoon Warning Center and National Weather Service meteorologists expect the tropical disturbance to lift slowly north, moving roughly parallel to the Marianas. They continue to monitor the system, however, as it is expected to bring 4 to 8 inches – and even more in some areas. It's also bringing winds of 25 to 35 miles per hour with gusts to 45 mph.