Guam Business Magazine Executive of the Year nominees announced
Guam Business Magazine announced the nominees for the 2022 Guam Business Magazine Executive of the Year. They are:
Frank Cruz,
Vice President and General Manager of Guam Fast Foods Inc., which does business as KFC Guam and Sbarro Guam; Jimmy T.C. Hau, President, Mobil Oil Guam Inc., President,

Mobil Oil Mariana Islands Inc. and President, Mobil Oil Micronesia Inc.;

Charles B. Hazzard III, President, CEO and Project Director, DZSP 21; Charlie Hermosa, General Manager, Guam-Micronesia, APL; President, Bella Wings Aviation; and President, Hermosa Ventures LLC, which does business as Guam Gift Baskets; Siska S. Hutapea, Founder and President of Cornerstone Valuation Guam Inc.; Thomas G. Shimizu, General Manager, Ambros Inc.; and Ken Yanagisawa, General Manager, the Tsubaki Tower and the Hotel Nikko Guam, President/Director, PHR Management Inc.; Managing Director, Ken Real Estate Lease Ltd.
The Executive of the Year will be revealed at the February 11 Executive of the Year Gala at the Hyatt Regency Guam, together with the release of the January-February 2023 issue of Guam Business Magazine, which will feature the awardee on the cover.
GVB membership to vote on board and amended bylaws on Jan. 10
The Guam Visitors Bureau membership is scheduled to meet Jan. 10 at the Hyatt Regency Guam to elect the board of directors. The meeting will also be accessible on Zoom.
There are four nominees so far for the 12-member board.
GVB said the four candidates for the four board seats that GVB's membership will vote on are Paula Monk, director of sales, United Airlines; William Nault, president and CEO of Nautech Guam Corp.; Carlos R. Taitano, director of global learning and engagement, University of Guam; and Rachel Tan, vice president of operations for T Galleria by DFS, Mid Pacific.
Nominations may also come from the floor.
According to Guam Code Annotated Chapter 9 of Title 12, Section 9106, there are 12 directors on the board.
The governor appoints five with legislative consent; the speaker of the Guam Legislature is to appoint two and they are referred to as the "Legislative Directors"; four are elected directors who are "contributing members in good standing elected by the membership; and those 11 will then select the 12th director who is "actively and directly involved in the tourism industry."
The law also states that there should be an alternate director appointed by the speaker with legislative consent, but this director won't have voting power unless and until a member of the Board of Directors is absent from a meeting."
The lunchtime election meeting will run from 11.30 a.m. to 2 p.m. and will also include ratification of GVB's amended bylaws. The meeting will further include a presentation on the brown tree snake, an industry update and a fiscal 2023 forecast.
Public health emergency to end; some federal programs to continue
The Public Health Emergency for Guam that Gov. Lourdes A. Leon Guerrero declared on March 14, 2020, nearly two full years ago, is ending.
In a video message released Jan. 6, Leon Guerrero said effective midnight this same date the public health emergency is over.
"These years may have tested us as a people, but through it all — we remained vigilant, we never lost hope, and we united as a community to fight the spread of this virus. Together, we kept our people safe and we kept our island strong. Presently, we have achieved a level of pandemic readiness and response where we all can be confident and our island can manage the spread and treatment of remaining COVID-19 cases, and any periodic fluctuations in our case count," she stated. "For this reason, I am happy to announce that effective at midnight tonight, we will no longer be in a public health emergency."
The governor said the administration is working to ensure the continuation of federal programs aimed at helping the community through the pandemic.
Such programs include SNAP emergency allotments.
"Consistent with the advice of the administering federal agency, I will be issuing a separate emergency declaration for this limited purpose," she said. "Additionally, our Guam National Guardsmen who continue to assist in limited response efforts such as vaccinations will be activated for this purpose pursuant to their territorial duties."
As of Jan. 3, Joint Information Center report there have been 411 deaths and a total of 60,087 officially reported cases over the last two years. There were 88 cases in active isolation at the time of the report.
According to the JIC report, as of Dec. 30, there were 140,836 vaccine-eligible residents, ages 6 months and up, who are fully vaccinated. This total includes:
· Ages 12 – 17 years: 14,346
· Ages 5 – 11 years: 9,348 received their first dose of a two-dose series.
· Ages 5 – 11 years: 7,699 completed their two-dose series.
· Ages 6 months – 5 years: 338 received their first dose of a two-dose series.
· In general: 82,920 eligible residents have received their first booster shots.
· In total: 14,287 eligible residents have received their second booster shots
Most businesses have been running business as usual with some changes. You can still find hand sanitizer dispensers as well as temperature check machines near entrances, and many businesses continue to have their staff wear masks. While the public health emergency does end, officials have previously stated that businesses can institute and exercise health-related policies more stringent than legal requirements as they see fit.
Electees update
Sen. Therese M. Terlaje will be the speaker of the 37th Guam Legislature. She will also remain chairperson of the Committee on Health, Land, Justice and Culture, according to a Jan. 5 release. In her address,
Terlaje said the 37th Guam Legislature must shift its strategy from recovery from the pandemic to prosperity for Guam's families.  She also said the commitments made by newly elected senators who were sworn in on Jan. 2 include fighting crime and drugs, inflation, transparency and accountability, affordable housing, sustainability, and balanced government powers.  "If we are to accomplish this bold and diverse agenda, we must work in a bi-partisan effort, place personal politics aside, and engage in healthy debate based on truth and facts to find solutions,"
she said.
Sen. Frank Blas Jr. will be the minority leader for the Republican Party.  
While incoming Guam legislators took days to agree on a speaker, there is no news yet on who will assume that title in the 118th U.S. Congress.  Guam's delegate-elect James C. Moylan said in a Jan. 4 release, " … unfortunately, this prevents the adoption of the Standing Rules and the Swearing in of the member-elects."
Despite that, Moylan has begun his time in D.C. with a flurry of activity to include time on the floor – captured on Fox News. He has also talked to several colleagues about legislation, "including the co-sponsoring of a bill with Puerto Rico which would authorize Social Security Income for residents of Guam, Puerto Rico, American Samoa and the Virgin Islands," the release said.  
Douglas B. Moylan, attorney general said in his inaugural speech that issues he campaigned on are now legal policy in his office.
"I say to the criminals, think twice under an AG Moylan administration. Follow our laws like the rest of us or suffer the consequences. Hurt us and we will force you to grow old in prison. To reduce crime victims, this AG's administration adopts the doctrine of "Protect & Punish to Deter." Let's make no "bones about it," the next four years is not going to be easy. When an AG goes into court, we're fighting to protect you. We are all safer and living a better quality of life when the AG enforces our criminal and civil laws passed by our lawmakers. Guam's tourism economy cannot afford the lasting scars criminals inflict upon us," he said.
Mayor's Council of Guam members elected Piti Mayor Jesse L.G. Alig, president; Sinajana Mayor Robert RDC Hofmann, vice president; Tamuning Mayor Louise C. Rivera, secretary; Hagat Mayor Kevin T. Susuico, treasurer and Barrigada Vice Mayor Jessie P. Bautista, sergeant-at- arms.
Palau gets new airline partner, access to South Pacific market
Air Niugini will commence weekly services connecting Australia, Papua New Guinea and Palau from Feb. 28.
"Air Niugini – in partnership with the Australian government – will service this route under the Australian government's Pacific Flight Programme, which underwrites flights during the initial establishment phase," the airline said in a release. The program has supported more than 450 flights in the Pacific since December 2020 and throughout the COVID-19 pandemic across 14 routes and 11 countries, the airline said.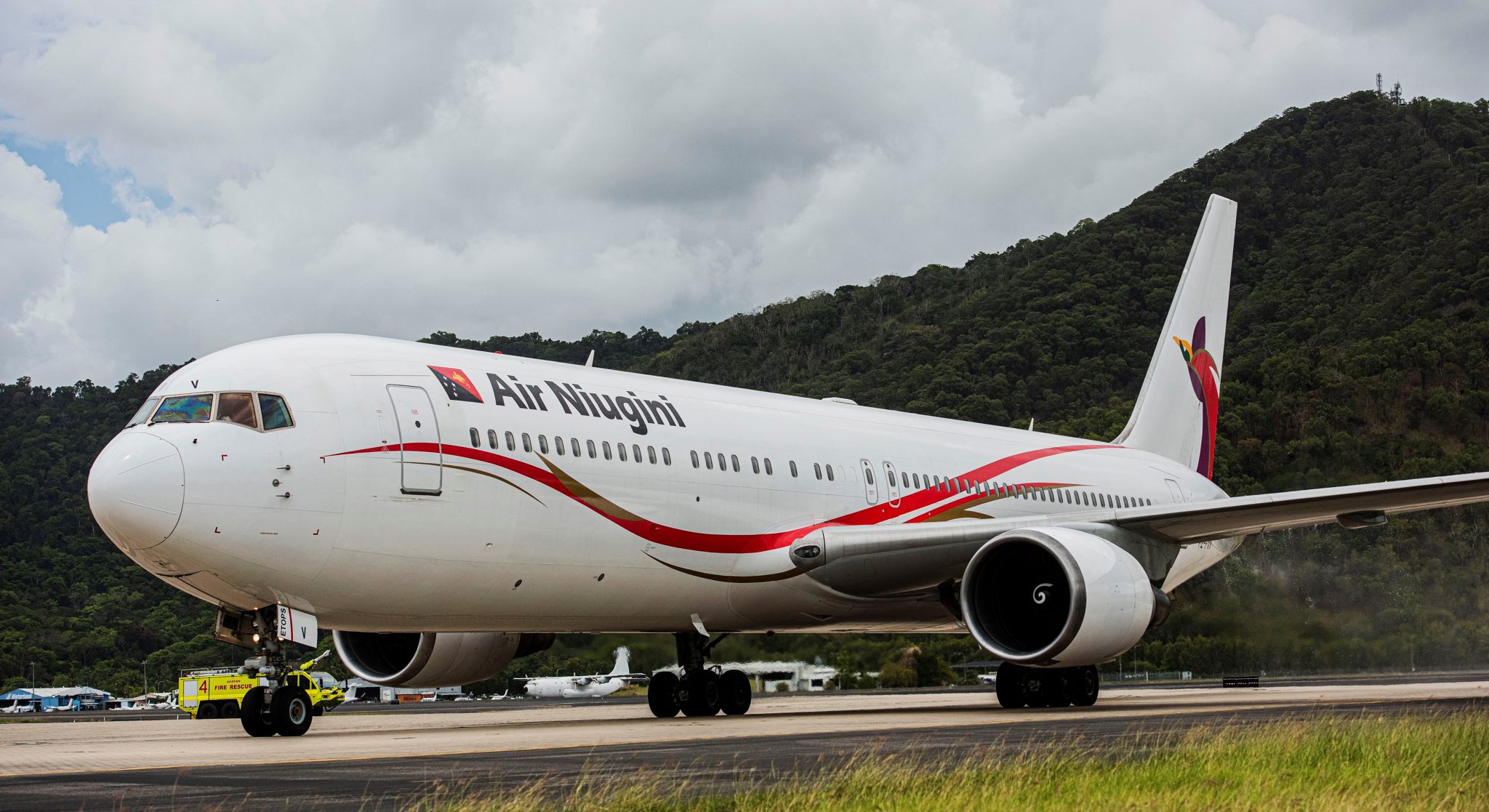 "This has helped keep Pacific communities connected, maintain supply chains and deliver critical medicines. The programme removes airlines' commercial risk operating an agreed flight, assuring regular and scheduled flights for passengers and cargo," the release said of its operating model.
Bruce Alabaster, CEO of Air Niugini, said the weekly flights will be operated by the airline's Boeing 767 aircraft every Tuesday from Brisbane to Palau via Port Moresby with the return flight on Wednesday.
He said, "As a regional operator in the Pacific we understand the importance of connecting communities and helping rebuild them after the COVID pandemic. We see real benefit to Palau with access from the Australian market to help re-build their tourism business and the cargo uplift of the B767 will be of immense value to the many businesses in Palau looking to import goods."
Airfares between both Brisbane and Palau, and Port Moresby and Palau are "set to ensure Palau is a competitive destination for those looking for destinations other than Fiji, Bali, etc." the airline said.  
Fares are now available for sale.
"The tourism market is vitally important to the country of Palau and direct access for the Australian market to take advantage of the wonderful diving and outdoor product unique to Palau will be a major boost to the local economy."  Alabaster said.
Air Niugini began operation in 1973. Its fleet consists of Boeing 767 and 737 jets for international routes, with Fokker F-100 aircraft, while the Q400 and Dash 8 aircraft are for "challenging terrain," according to the airline. The Fokker F-100 also flies to Cairns in Australia, Honiara, Solomon Islands and Port Vila, Vanuatu. The B737 operates some domestic flights to Manus and Lae in PNG.
Part of the Air Niugini family, Link PNG is a domestic airline formed in 2014 that has its own Airline Operating Certificate from the PNG Civil Aviation Safety Authority. 
Navy awards Guam and Hawaii housing program contract to stateside company
The Concourse Group LLC of Annapolis, Md., was awarded a $35 million firm-fixed-price, level-of-effort, indefinite-delivery/indefinite-quantity contract for the Department of Navy's "public-private venture and real estate programs," according to a Dec. 14 release from the U.S. Department of Defense. Work will be performed in Guam, Hawaii and "other overseas areas" and is expected to be completed by December 2027. The Naval Facilities Engineering Systems Command Atlantic, Norfolk, Va. made the award, for which three offers were received.
The Concourse Group was founded in 2001. Its federal clients include the Army, Air Force, Marine Corps, the Department of Veterans Affairs and the Federal Bureau of Investigation. "
Concourse is the exclusive Public Private Venture consultant and asset manager for the Department of the Navy's privatization program for family and unaccompanied housing, lodging, and energy, which includes 61,604 family homes and 3,108 bachelor housing units nationwide," according to the Concourse website.  
Concourse has an "Affordable and Workforce Housing Practice" section, according to its website, and has assisted various regional housing authorities in the U.S. mainland with housing developments.  
Editor's Note:
According to the Naval Facilities Engineering and Systems Command, the Navy
"selects highly qualified business partners to construct, renovate, own, maintain, operate and professionally manage housing for military service members and their families." Through the [public private venture] program the Navy "establishes long term business relationships with outside business entities and creates a limited liability company or limited partnership." The Navy leases and conveys existing housing assets to the LLC or LP. The LLC or LP develops and manages the property as a private housing community intended for military service members and their families. 
To date the Navy has privatized 42 family housing project phases with an end state of approximately 62,000 units, as well as two bachelor housing projects with an end-state of approximately 6,000 units, according to NAVFAC. Not only did the PPV program eliminate the Navy's portion of inadequate homes, it "executed approximately $9.8 billion in initial development of family housing for a cash investment of $1.5 billion (6.5: 1 leverage) and, for bachelor housing, executed almost $600 million in initial development for a cash investment of almost $80 million (7.5: 1 leverage)."
Korean bank to provide Guam services
LN International which does business as Global Loyalty Network – the global payment network company established by Hana Financial Group, signed an MOU with KB Kookmin Bank to join the global payment network.
KB Kookmin Bank will provide mobile payment and ATM withdrawal service to customers in Guam, Japan, Hong Kong, Vietnam, Laos and other destinations through GLN.
GLN "connects international financial companies, distribution channels and reward point providers so that users can enjoy cross-border mobile payment, ATM withdrawal service and remittance," according to a Dec. 19 release.
Hana Bank first introduced GLN in April 2019 and spun off GLN International in July 2021, to facilitate network business and secure independence from its mother company, the release said. GLN's service is provided through Hana 1Q, the mobile banking application of Hana Bank.
Palau's solar project gears up for 2023 launch
Alternergy Holdings Corp.'s solar photovoltaic and battery storage project in Palau is set to begin commercial operations in April 2023, according to a Dec. 19 release.
The project, which is 65% completed, is under Solar Pacific Pristine Power Inc., a unit of an Alternergy subsidiary.
The Palau solar PV and battery storage project has a capacity of 15.3 megawatt-peak solar PV and 12.9-megawatt-hour battery energy storage system.

project financing under the Australian Infrastructure Financing Facility for the Pacific.
Australia, through the financing facility, has provided AUD31 million in financing to Solar Pacific to support the construction of Palau's first utility-scale solar and battery energy storage facility.
Located on Babeldaob, the project is expected to generate 20% of Palau's energy needs by replacing diesel with renewable energy.
Alternergy is a Philippines led company, with expertise in solar and wind farm power projects.
And also:
Ukudu transport to affect Guam drivers
Medians on Marine Corps Drive are be removed to make way for "transportation of oversized cargo" for the Guam Power Authority's new Ukudu power plant in Dededo. The cargo – outsize generator parts – may cause delays and traffic tailbacks. Check
www.poweronthemove.org
for more info.
The University of Guam's commencement allowed "253 graduate and undergraduate students" to graduate on Dec. 18 at the Calvo Field House. The commencement speaker was Joleen Aguon, a "UOG alumna who holds management roles at the Guam Memorial Hospital, including as the associate administrator of clinical services, assistant associate administrator of medical services, and medical director of telemedicine and medical director of ICU/CCU," according to UOG. mbj